Cricket Worldcup Finals 2007
From assela Pathirana
Details: Wikipedia article on Cricket World Cup 2007.
Listening to Live Audio Broadcasts for Free
BBC Radio Five broadcast uninterrupted audio commentaries of the game. This is streamed on the internet. However, due to licensing problems, this is restricted only to the UK listeners.
If you are a listener outside the UK it is possible to listen to this service simply by browsing through a wikipedia:Proxy Server in the UK. There are quite a few public ones and they are easy to use.
In your browser (I use Mozilla Firefox) enter the settings in Tools->Options->Advanced->Network->Settings and enter the manual proxy configuration as shown in the figure.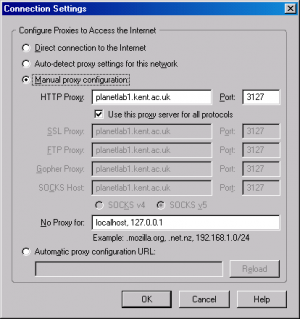 Note

I don't know whether there is any legal issue in doing the above. Go figure it yourself, please.