Spellbound Extension for Firefox Browser
From assela Pathirana
How it works

Version 2.0 of Firefox has a spell-checker integrated to the browser. As of 12 July 2006, the beta 1 version of this release is available for download. For versions 2.0 and later, Spellbound extension is redundant.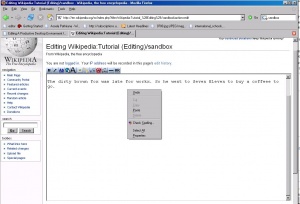 When you type some text in a text area on the Firefox Browser, right click on the text area and select "Check Spelling ..." and that's it.
How to get it working
Installing the spellbound on latest and greatest versions of firefox can be tricky unless you know where to get the correct stuff.
Go to Development version at Mozillazine

Right click on the link Install SpellBound Dev and save the target somewhere on your desktop. Then drag and drop it on to Firefox to install it.

Get the needed dictionaries from here or here. Save them and install following the same procedure as above.
Now exit firefox and start it again. Open a web page with a textarea, type some text try the spell checker. (This is a good, harmless place to play with.)